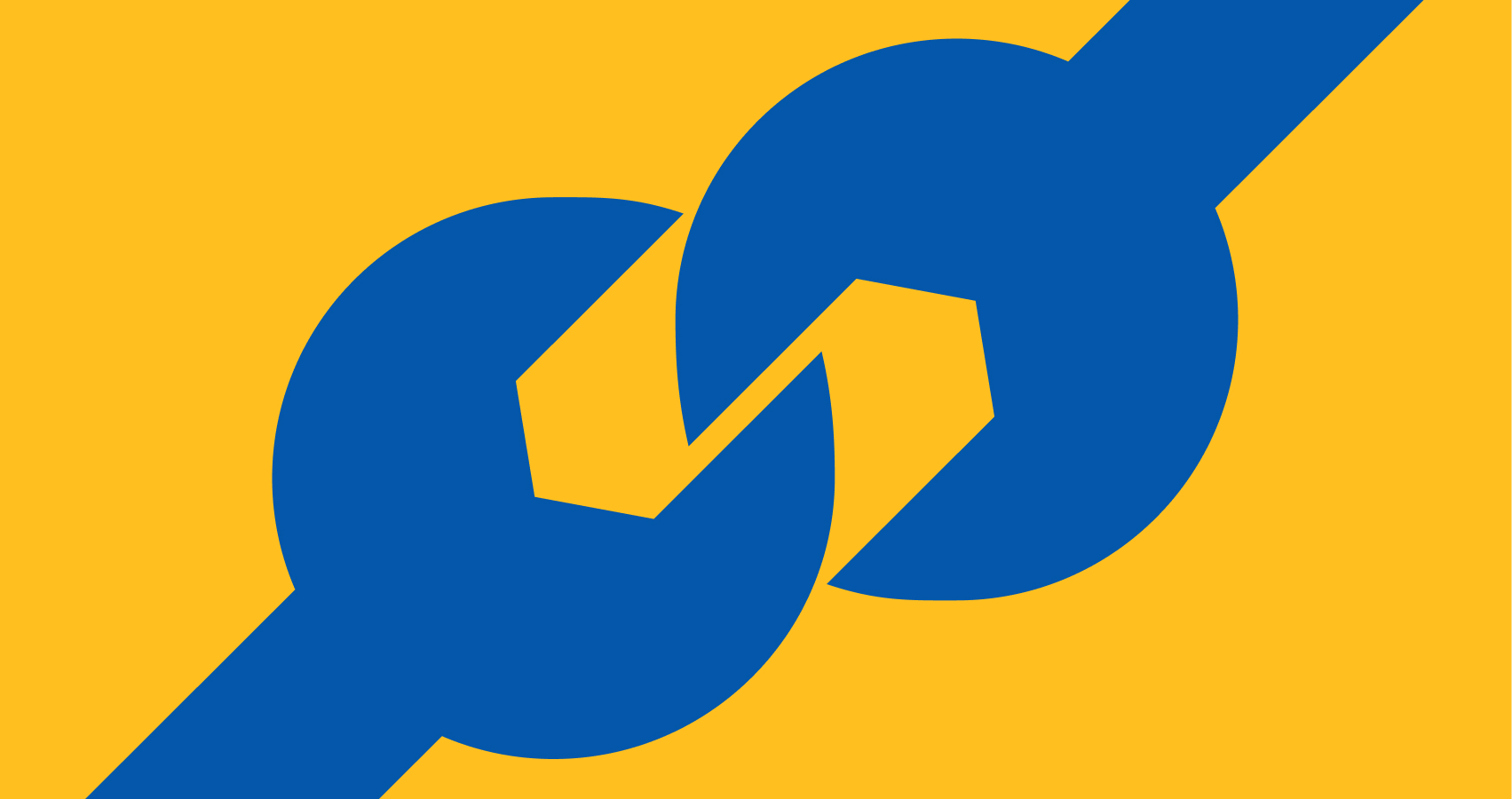 Why is Custom Software Best for Your Business?
What are the main benefits of custom software development and how can the choice of a custom solution impact and support business growth.
All businesses today have to deal with a fast-paced rhythm of work. With a dynamic business environment and the ever-evolving tech world, for a business to stay alive, let alone to grow, an appropriate approach has to be found.
Users today are more and more demanding when it comes to the quality of the software they use, and, ultimately, the business they choose. They require not only top quality when it comes to being bug and error free, but also require the software they use to have a variety of options for them to ultimately be satisfied with it. It doesn't just refer to outside users or clients, but to your employees who may be the only ones using the software.
Additionally, as the tech world quickly and continuously changes, so do the needs of both a business and of the users of a particular software.
Add to this the highly competitive market with a range of easily accessible options for all users to explore and you will get to wonder how you can win over the competition and win over your potential users.
Let's find out more about why, in order to grow, your business needs to opt for custom software development.
---
What is custom software development?
Custom software development is an approach to building software, usually from scratch, that responds to the unique needs of a business.
This results in a tailor-made solution with a unique and specific set of features that perfectly correspond to a particular business' requirements and specifications, offering thus a competitive advantage to businesses that decide upon this approach.
The other available option businesses can choose from is off-the-shelf software, and, while this may be a good choice for some organizations, especially for smaller and younger ones, it lacks one of the biggest benefits of a custom software solution - meeting the exact requirements a business may have, as well as the option of growing along as the business itself grows.
As for the benefits of custom software, these are just the tip of the iceberg. The growth of the global custom development market is hence not surprising. In fact, in 2021, the custom software development market was worth USD 24.46 billion and is projected to grow at a CAGR of 22.3% from 2022 to 2030.
Benefits of custom software development
Custom software is made for your business as a direct response to the specific needs your business has. It works for you and for your intended audience.
It grows with you. It gives you a competitive edge over your competitors as it is carefully designed, planned and built to contain the required and desired features, which may come from months or years of target user and market research, as well as your business goals and objectives.
It can fit seamlessly into your existing business processes, making your operations more efficient and productive.
Since a custom approach is a more expensive option when it comes to initial expenses, off-the-shelf software may be a good idea at the beginning. But, as your business expands, the number of users of your product grows, the demands of both sides will change. Off-the-shelf software will no longer be able to offer enough - in terms of compatibility, flexibility, or scalability.

List of benefits
1. Cost-effectiveness
As mentioned above, custom software may and will likely have higher upfront costs than off-the-shelf software.
Choosing a custom software solution includes a full and complex software development cycle - planning, analyzing, designing, developing, testing and maintaining - and software development projects are not exactly cheap. It can also take a while for such software to get to the phase when it is ready for use.

Custom Software Development Cycle
Off-the-shelf software comes either as a free, freemium or paid version of the software. The paid version usually grows as your feature or user number requirements increase, and a free version often requires a switch to a paid version in these cases as well.
This is precisely why, when you compare the cost of building a brand new custom software solution to the cost of buying a ready-made software available on the market, the initial conclusion may be that going custom does not pay off.
However, it does.
Even though custom software development may have higher upfront costs than off-the-shelf software, it can be more cost-effective in the long run.
While you will inevitably have to invest in maintenance and support for your custom software once it has been built, compared to the accumulated costs of subscription payments, these will not significantly affect your budget.
You will also reap other benefits of having business-unique software. Since custom software is designed to meet the specific needs of a business, it can reduce costs associated with inefficiencies and redundancies.
2. Tailor-made solution
With custom software, businesses can work with developers to define their requirements and set project timelines that work for them.
This means that the software can be built to meet the exact needs of the business, without having to compromise on functionality or features.
What is more, using off-the-shelf software may come with an additional set of features you are not using but still have to pay for, all of which can also make the software more complex and difficult to use.
While you may be faced with a software with redundant features, a likely scenario is that you will have to use one that lacks particular features. A choice you may be forced to make is to use different software from different providers to satisfy the unique needs of your business.
This is a clear sign your business is developed and complex enough to require its own bespoke software solution.
Custom software development also provides businesses with the ability to design software that is user-friendly and intuitive, as it is built with the specific audience in mind. This can help to improve the user experience, making the software more accessible and easy to use for employees and customers alike.
3. Complete control
With a custom software solution, you control everything. From the initial planning and design phases which focus on integrating your business requirements in a single solution that works best for your business processes and users.
You not only have control over the initial building phase, but you also remain fully in control of any future changes, additions, and updates that, again, are developed in correlation with the way your business is changing.
On the other hand, with off-the-shelf software, you are just a bystander. The software providers are those that decide which changes will be integrated into the software you are using, to which extent they will affect it and when they will be introduced. This may result in negative changes to the features you are using, even to the complete loss of some of them - all of which can easily disrupt your business processes.
So, while even maintenance can badly affect your business, an even worse scenario is stopping maintenance completely. The software you heavily rely on may come to a stage where it is no longer being updated or where bugs are no longer fixed. You are simply left with a solution that will, in the rapidly changing market, soon become obsolete.
4. Support and maintenance
Even though off-the-shelf software have their own user communities and organized support systems (via email, chat, phone or different contact forms), if you choose a custom software development company to provide you with a solution, you will have a dedicated team of developers or other experts that can resolve any issues and problems, or fix potential bugs you may encounter whenever you need them to. Their role is to promptly respond to your request, and perfect the custom software you are paying for.
What is more, your dedicated development team will continue to work on maintaining the software, as it is usually an obligatory component of any custom development project, since the software is not finished even after deployment.
5. Scalability and flexibility
Custom software is, or rather, should be designed to be scalable, meaning that it can be adapted and modified to meet changing business needs.
Scalability should be one of the primary requirements you have at the initial stages of the project development and you should make sure the software development company in charge builds a custom solution with scalability in mind.
As businesses grow and their needs evolve, custom software can be modified to accommodate those changes. This means that businesses can invest in software that will grow and evolve with them, avoiding the need to constantly replace outdated software, which also has an impact on the overall software expense.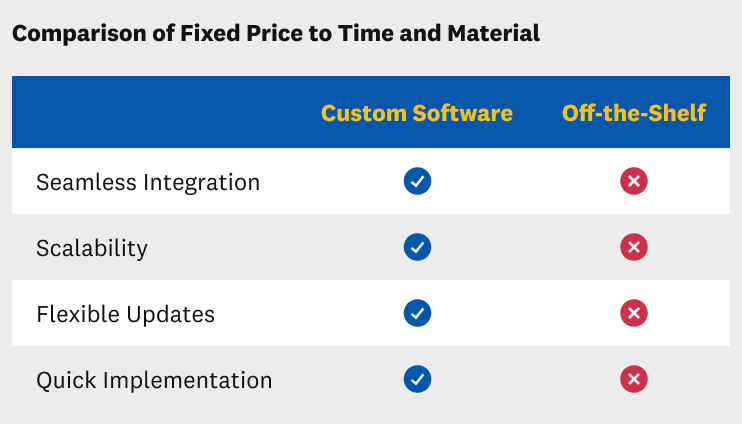 Custom vs Off-the-Shelf Software
On the other hand, utilizing an off-the-shelf software leaves no room whatsoever for any kind of change on your side, as you do not own it and can only use what you are given. Any changes and updates depend upon the market research and decision making of the software provider.
6. Integration
If the software you are using is incompatible with other software, systems or devices you use, its usage may be limited. With tailor-made solutions, this is not an issue, since they can be designed to integrate seamlessly with any existing systems and software you may already be using.This can help to streamline business processes and improve overall efficiency.
You can build your custom software solution to fit perfectly within your existing system and processes.
Businesses can also save costs associated with training employees on new software, as custom software can be built to fit seamlessly into their existing workflows.
7. Security
Using an off-the-shelf, open-source software may come at an even larger cost than just money. These software are far more vulnerable to different sorts of attacks that can badly impact your business.
If you make sure to develop a robust and secure solution, built by an expert and experienced software development company, you can have peace of mind knowing that your bespoke software will be secure and protected against any potential threats, safeguarding your valuable data and sensitive information from unauthorized access or cyber-attacks. This software is used only by your team and you have full control over it, which significantly reduces the possibility of any outside threats to your data, your software users, or your business in general.
You also have the ability to choose yourself which security measures will be conducted in order for your custom software to provide optimal security.
Signs you should choose custom software development
The benefits of custom software speak for themselves. Their impact on your business is long-term. However, if you are thinking about finding a software development company and starting the process of developing your own tailor-made software, you need to make sure of the following:
You have enough resources to complete the project. Since software development projects are costly, you have to make sure your budget cover the entire process in order to produce top quality software.
You have enough resources to maintain and update your software. If you wish for it to stay relevant, competitive and useful, your software will have to stay up to date with the market trends, as well as the growth of your company.
You have a detailed plan and know what you need. You need to prepare project goals, requirements and specifications that will help the development team provide you with a solution that corresponds to your business needs.
You plan to be involved in the entire development process. The software development life cycle is complex, and, if you wish for the final product to meet your requirements, you need to be involved and keep an eye on the way the software project is progressing, as well as have a say in the development of its features.
You plan to remain fully in control even after software deployment. To respond to the growth and the changes happening within your company, you will be in charge of investing in your software by continuously updating it.
Some signs that your business needs its own bespoke solution:
You are using multiple software because a single solution, of those available on the market, cannot satisfy your business requirements and processes.
Your business needs and processes are very complex and unique.
The software you are using lacks certain features that are crucial for your work.
You have large amounts of sensitive data and private information you wish to keep protected and not share it via outside software.
Your processes are changing and your business is growing, so you need a solution that will grow with you.
The existing software cannot keep up with the growth of your business.
The changes in the software you are using are disrupting your business and you cannot rely on it permanently.
Ready for your own custom solution?
If you have decided your business needs are not fulfilled with what is currently available on the market and wish to create a bespoke software solution to keep your business growing, there are two main things to take care of:
Creating a thorough business analysis and plan to be able to prepare project objectives and requirements that will be used by the software development company to produce your ideal solution for you.
Finding an expert and experience software development company that provides custom software development services that is able to fulfill your requirements.
Mono has 20 years of experience in providing custom software services for companies all over the world and multitude of industries. We have even built our own custom software, so we understand the need to build one yourself.
We know the process, have the experts and the experience, and can help guide you along the way. Feel free to contact us any time, we're waiting.