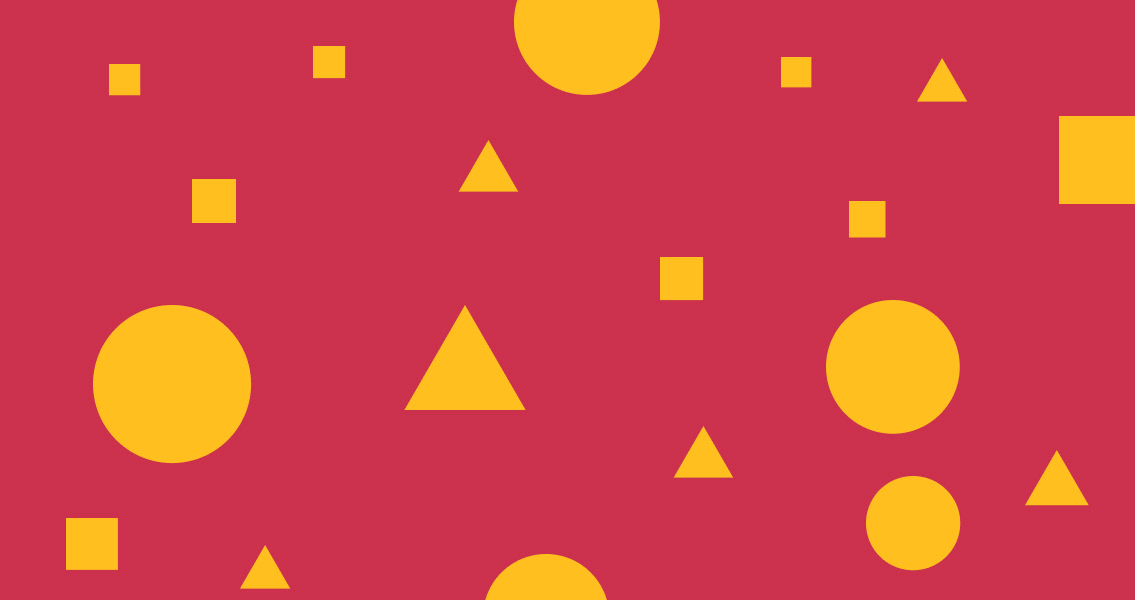 Types of IT Outsourcing — Which One to Choose?
Defining relationship- and location-based software development outsourcing models, and providing sound advice on how to choose the best option.
Building a team for your project may be a troublesome task, especially these days when finding tech talent seems to be harder than finding a needle in a haystack. This is why many companies choose to go down a different path – the outsourcing path.
Not only does outsourcing offer companies the opportunity to reach tech specialists, but it also helps them reach these specialists much quicker and with far less money spent.
If you, too, choose to outsource your work, you may be wondering how outsourcing works and where even to start. We will cover the different types of outsourcing, the ways in which they correlate to different business needs and the questions you should ask yourself to successfully choose a model that suits you best.
---
What is software development outsourcing?
Before we go over the details, let's cover the basics.
Software development outsourcing is the practice of hiring a third-party company or individual, located outside of the organization, to perform software development tasks or projects.
This kind of outsourcing can refer to tasks such as creating new and custom software solutions, maintaining and updating existing software, and providing technical support.
The industry of outsourcing software development has been exponentially growing, following the rise in the demand for the mentioned services, as well as the need to cut costs and obtain top service. In fact, more than 50% of the global outsourcing value is generated by companies offering software outsourcing services.
Why outsource software development?
So, why should you outsource in the first place?
The reasons companies and individuals generally choose to outsource their work are manifold. However, the number one reason is cutting down costs, with only a fraction of companies claiming reduced cost was not a factor when choosing to outsource.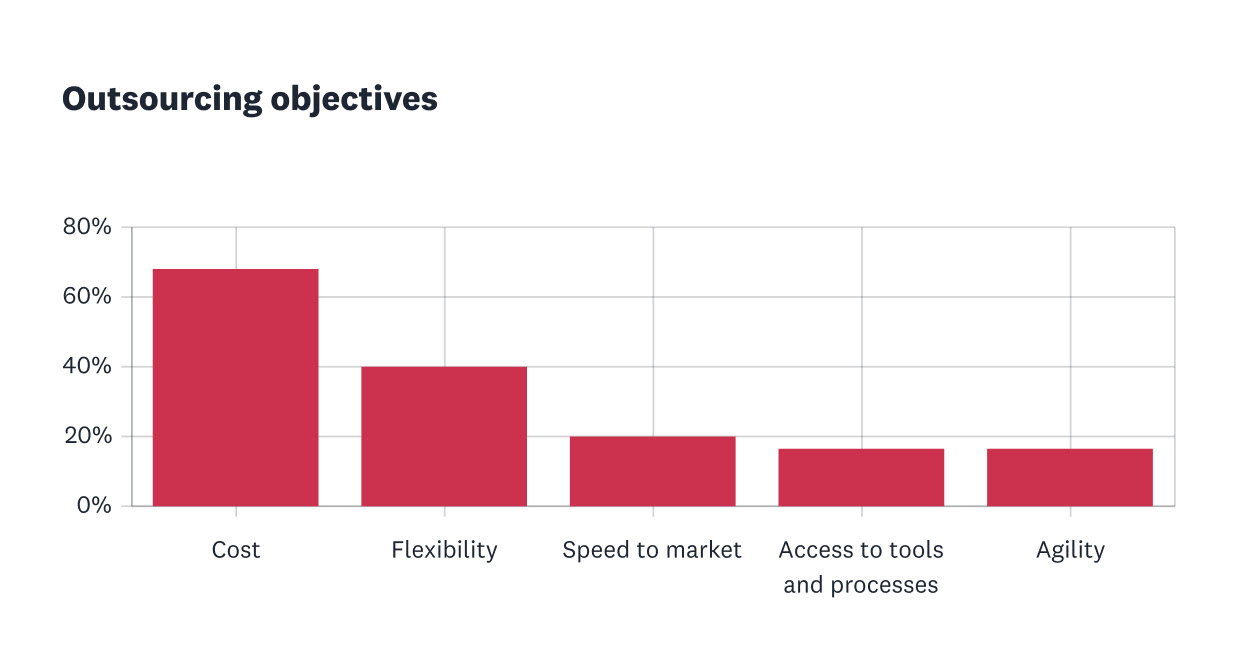 Source: Deloitte
When we talk about outsourcing software development, there are more particular reasons to take into account. Outsourcing software development to a third-party company not only saves cost on labor, in the form of lower rates of hired developers or developer teams, but it also saves you money on finding and hiring new employees. Finding new specialists to hire takes both money and time, so it's a double benefit, as, according to different research, the greatest challenge small businesses face is finding new talent. It also makes for an easy way to add missing skills and expertise to your in-house team.
The reasons for outsourcing software development can be summed up as follows:
Reduced costs
Saving time on hiring developers
Augmenting your development team with missing skills and expertise
According to Statista, the global IT outsourcing revenue is projected to reach $430.50 billion in 2023 and $587.30 billion by 2027. Since finding talent takes time and money, and there is a global shortage of tech experts on the market, the question shouldn't be 'Why outsource?'. Instead, it should be 'How can I start?'.
As the size of businesses, their project types, needs and requirements vary, there are different models of outsourcing to choose from. We're about to jump into the process of choosing the right outsourcing model.
Types of software development outsourcing
The different outsourcing models are generally classified into two main groups:
location-based outsourcing (based on geographical location of the team you choose as your outsourcing partner)
relationship-based outsourcing (based on the type of collaboration)
We'll further discuss the details of each group and its subtypes.
1. Location-based IT outsourcing
As mentioned above, location-based IT outsourcing refers to the geographical location, or rather how far you are from your outsourcing partner. With regards to the distance between you and the company to which you are outsourcing software development, there are three types of outsourcing:
Onshore outsourcing
Nearshore outsourcing
Offshore outsourcing
Onshore Software Development
Onshore software development refers to hiring developers from the same country.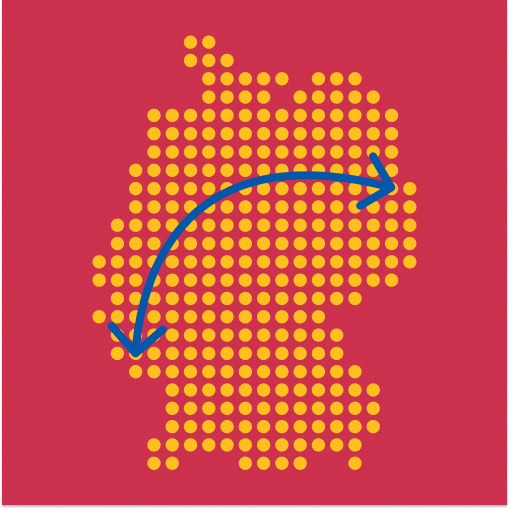 With this model, you avoid time differences, or, at least, major time differences. It is also easier to have in-person meetings, if necessary, and to communicate more often, since you will likely have the same working hours.
Additionally, as you hire within your country, there are no language barriers or cultural differences that may make it difficult to cooperate, while you also fall under the same laws and regulations.
However, there are cons to choosing this model as well. Even though you do avoid some potential risks, by hiring locally, you also avoid one of the greatest benefits of outsourcing – cutting down on costs.
Chances are that the developers you hire will have to be paid an equal amount of money as your in-house developers, or perhaps even more. You also won't have access to the global talent pool.
If you choose to outsource onshore, without accessing a wider pool of tech talent, it may be harder and it may take longer for you to find the expertise that you need, as the competition is greater and the number of experts is smaller.
| PROS | CONS |
| --- | --- |
| Same or similar time zones | Higher cost |
| Same language | Lack of skilled experts |
| No cultural differences | High competition for tech specialists |
| Same laws and regulations | No access to wider talent pool |
If cost is not your priority and you would rather choose a simpler option of cooperating with someone within your borders, trusting you will find the right talent in another software development company within your desired timeframe, then onshoring is the choice for you.
Nearshore Software Development
Nearshore software development refers to outsourcing your work to software developers from a nearby or neighboring country, meaning you are not more than 2-3 time zones apart.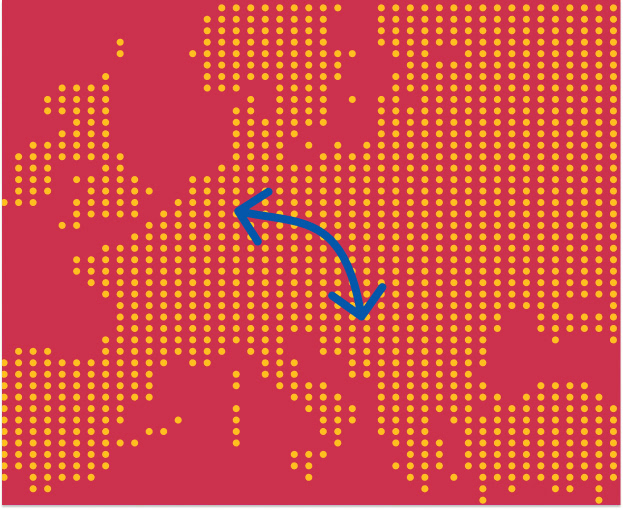 With this software outsourcing model, depending on your location, you might just get the best of the three options. If you are located close to countries that offer lower software development rates, you will manage to save money, while you'll also work with just a couple hours of difference.
You will also have the chance to access a wider talent pool and have the opportunity to quickly find specialists with desired expertise and experience.
The differences, or rather barriers, in language and culture can vary, but so can the cost of service. For example, for a company from Germany, there aren't many cultural or language barriers with neighboring countries such as Switzerland or Austria, but there also aren't many differences in the cost of labor, with software development prices ranging from $50 to $200 per hour.
On the other hand, while there may be differences in language and some cultural differences with countries like Croatia or Ukraine, the rates are significantly lower, from $25 to $50, with the quality remaining just as good. This is also why Eastern European countries are growing in popularity as IT outsourcing options when finding nearshore software development companies.
| PROS | CONS |
| --- | --- |
| Lower rates | Some language barriers |
| Access to wider talent pool | Some cultural barriers |
| Same or similar time zones | Different laws and regulations |
| Geographical proximity | |
When considering whether to choose a nearshoring software development company, the pros and cons of nearshore software development may vary depending on where your country is and which potential partner countries are near you.
Offshore Software Development
Offshore software outsourcing means outsourcing software development services to a far-away country.
This country can be on a different continent and in a completely different time zone.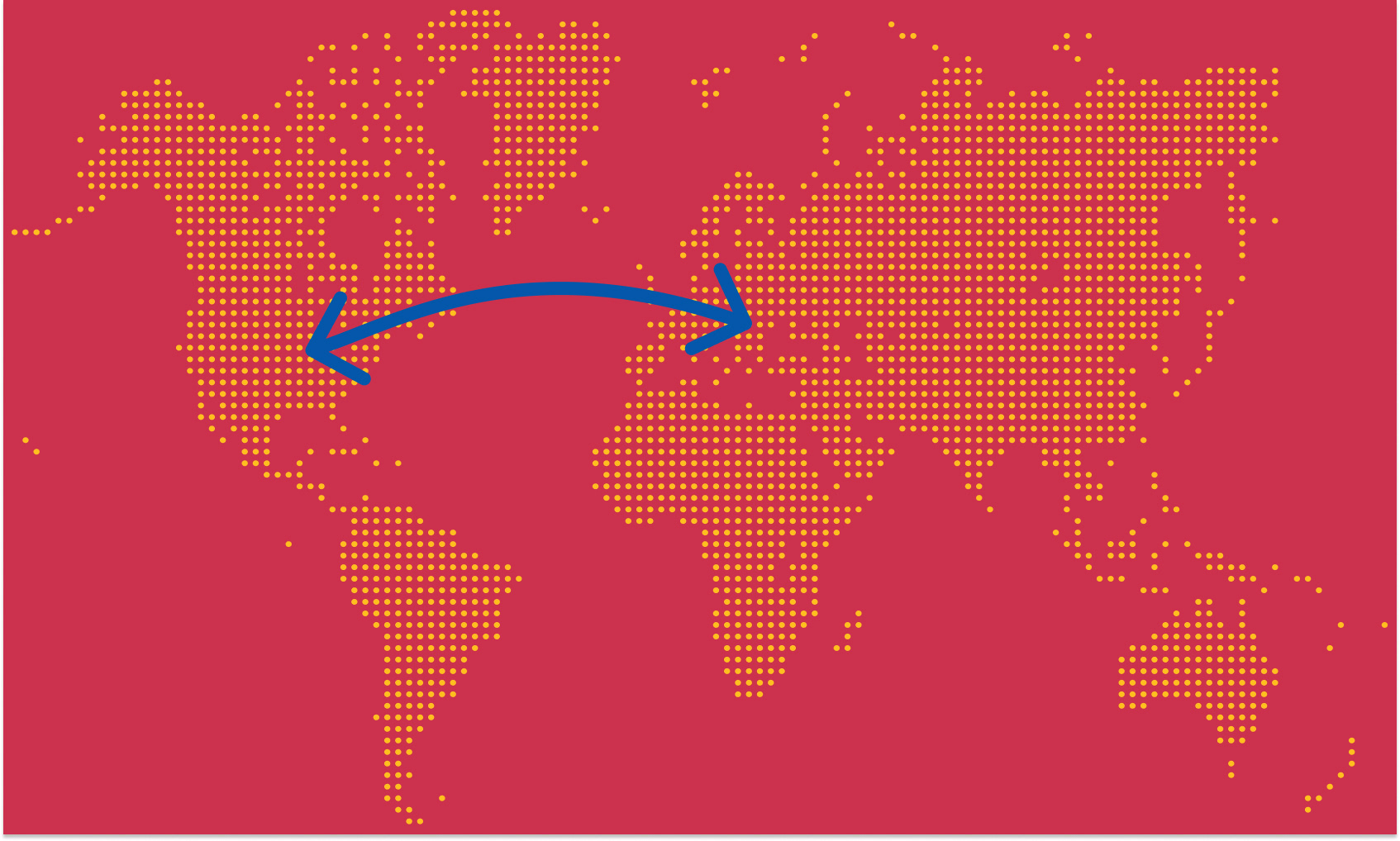 With offshore IT outsourcing, lower rates and access to a wide talent pool become as clear as daylight. This is especially true for Western countries which are facing a shortage of skilled IT professionals and have the opportunity to significantly decrease their costs by outsourcing software development services to countries located in Eastern Europe, Africa, Asia or South/Central America.
We have already discussed the differences in rates among potential software development companies located in these geographical regions, followed by other pros and cons, mainly related to the quality of work.
| PROS | CONS |
| --- | --- |
| Low rates | Language barriers |
| Access to wide talent pool | Cultural barriers |
| Lower competition | Different laws and regulations |
| | Different time zones |
With regards to pros and cons of an offshoring software development scenario, some cons can be greatly mitigated if you choose the right partner.
Language and cultural barriers can be easily overcome if the PM and other persons of contact in your partner software development company speak English. As research shows, choosing Eastern European countries is the most risk-free option with regards to this, with high levels of English proficiency, as well as highly educated experts.
Additionally, in today's globalized world, where you can simply connect with anyone, different time zones should not pose much of an issue. With a person of contact, along with some software outsourcing companies who are willing to adjust their hours to fit yours, this makes for a barrier easily overlapped.
How to choose
Here are some questions that might help you in deciding what model suits you best:
Do I have the resources to hire a local software development company?
Do I have the time to find local talent with regards to my project requirements and project deadlines?
Is the tech expertise I need available locally?
Is it more important for me to reach a wider talent pool or to work with an outsourcing company in a similar time zone?
Is it more important for me to avoid language and cultural differences or to save money?
How many hours of difference would I prefer between me and an outsourcing software development company?
Of course, these questions are just a beginners guide to software development outsourcing. Next, you should examine the possible locations as well as ways to mitigate potential outsourcing risks.
2. Relationship-based IT outsourcing
Based on the type of cooperation, the project you have, the number of developers and the kind of expertise you need, there are three models you can choose from:
Team augmentation model
Dedicated team model
Project-based model
Team augmentation model
The team augmentation model is all about finding outside experts to fill a gap in your team.
It is also called an extended team model, as you temporarily extend the size of your team by adding missing experts or missing expertise.
The additional talent you add to your existing team will work as a part of your team for the duration of the project, or as long as you need their expertise.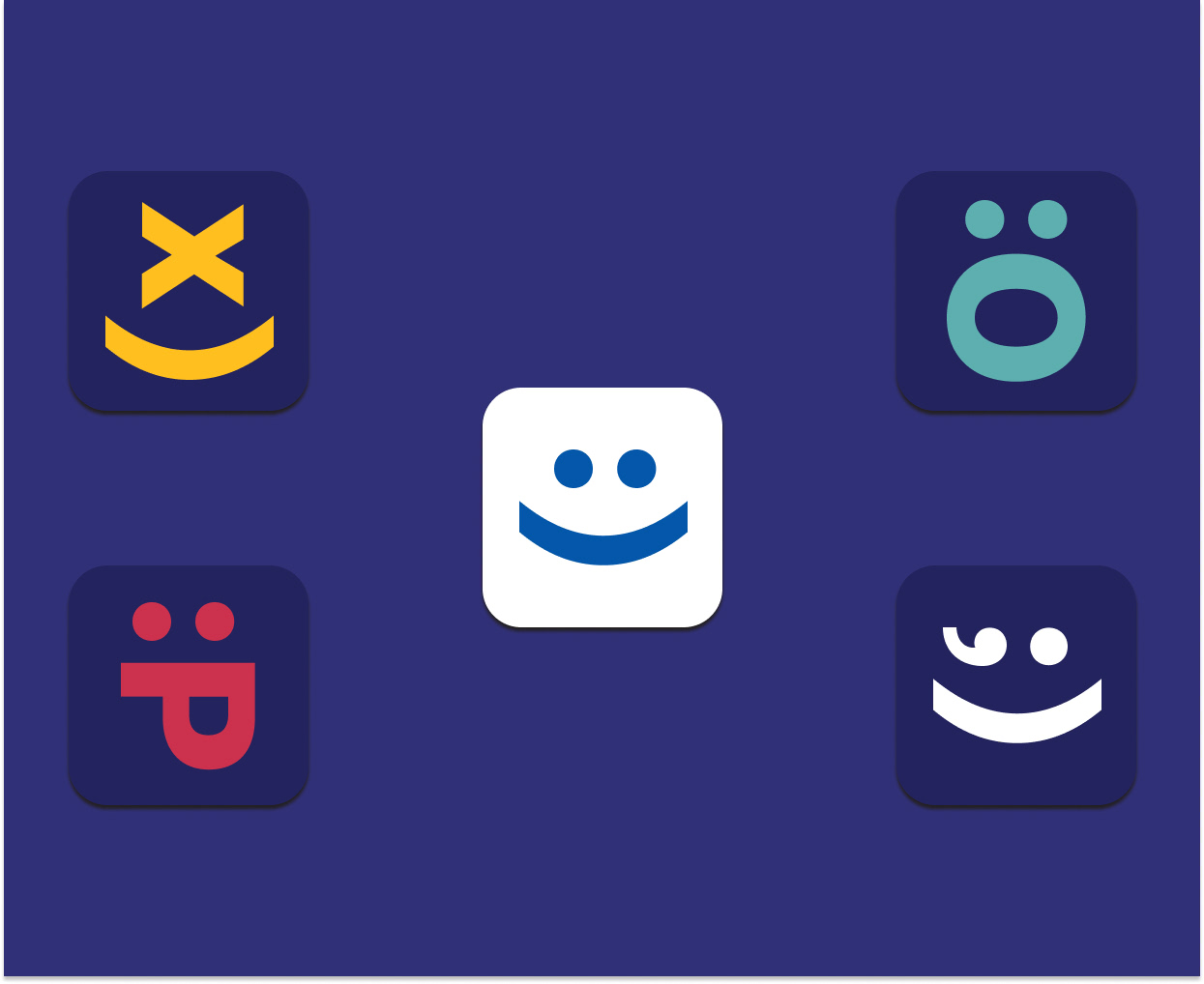 Main benefits:
Quickly filling a gap in your team with needed expertise and skills.
Saving on resources by avoiding the recruitment and hiring process.
Adding software developers to the team for the required duration ("renting skills").
Retaining full project control over the project and not having to put it on hold until you hire a new employee.
Disadvantages:
Managing specialists added to your team and controlling how they fulfill their tasks.
This is a disadvantage due to the fact that the added individuals are still working for their original software development company, they are working remotely and, if you choose a nearshoring or an offshoring software development model, they will be located in another country, possibly within a different time zone.
However, this does not have to be a disadvantage, even if you don't have experience working with remote teams.
If you have chosen a trusted third-party software development company, your project manager and tech lead should be able to transfer the tasks with assigned deadlines and follow progress in the same way as they do with in-house personnel.
Dedicated team model
With a dedicated team model, you hire an entire software development team from an outside company.
In this case, an outsourcing company assembles a team of their in-house specialists and "lends" them for the course of the project or other desired time frame.
You are highly involved in the development of the project and can change the requirements throughout its progress, while the hired team works as if they were a part of your company.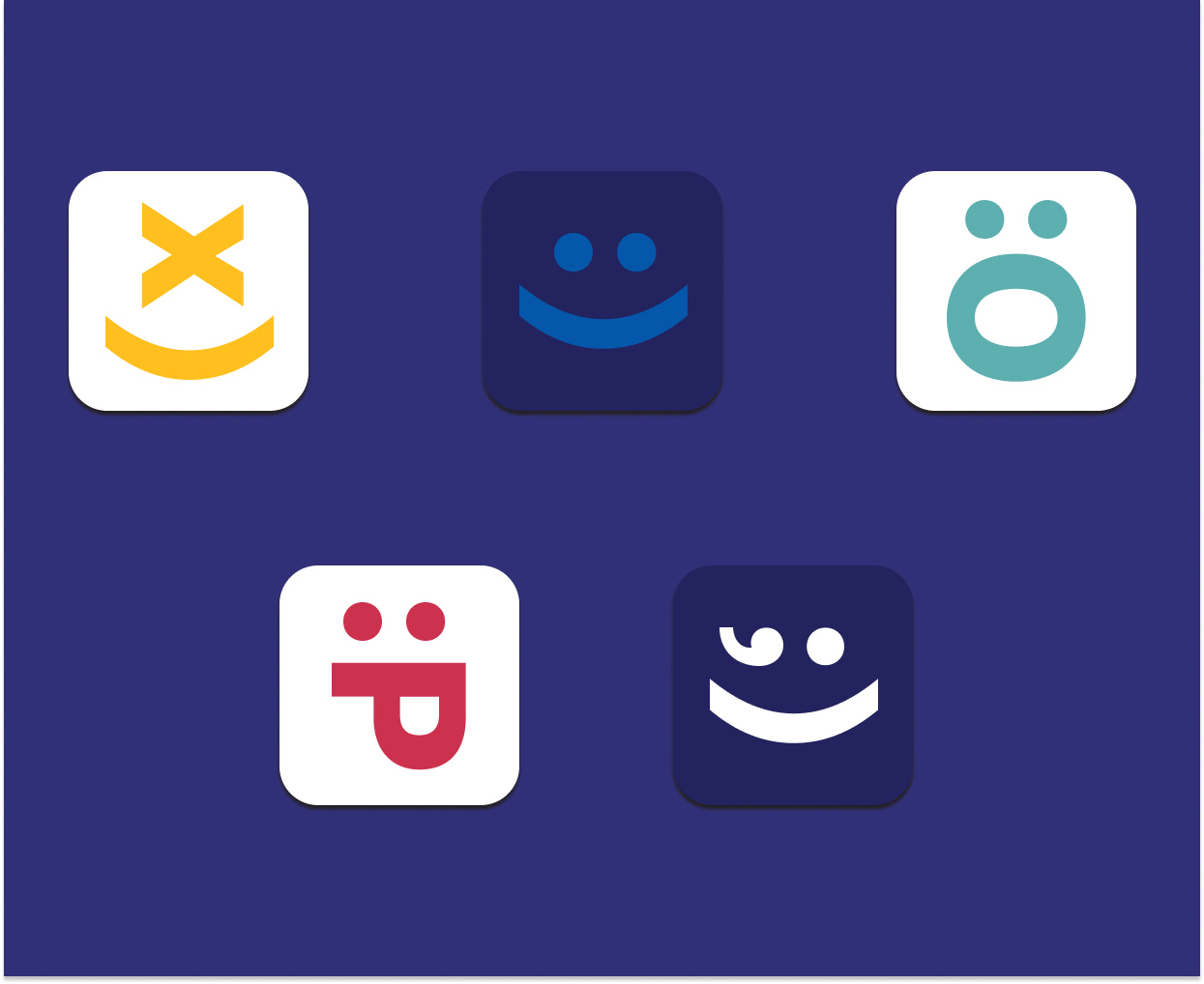 Main benefits:
Getting a hand-selected team of developers with the desired skills.
Having the team work as a part of your company, but avoiding worrying about taxes, social benefits and HR issues, resulting in a more cost-effective solution.
Having the team work exclusively on your project, hence the word "dedicated".
Working in an agile environment and changing the project requirements as it progresses.
Disadvantages:
Undefined resources that might go over the budget, since the requirements are not fixed.
A scenario in which it is ideal for you to choose to work with a dedicated software development team is one in which you have a long-term project, which has the potential to expand, and a project with vague and changing requirements which is only in its discovery phase. While these types of projects and collaborations may lead to you requiring more resources, it still makes for the best way to approach the situation. You work with a team of experts that will help you build an MVP with certain reductions in final cost of service, as well as having full and free control over the entire project development process.
Project-based model
The project-based model means granting full control over the project to a third-party company and their development teams.
While you fully give up control of your project and hand over the responsibility of it reaching its final stage and completing all the requirements, this model is the most popular IT outsourcing model.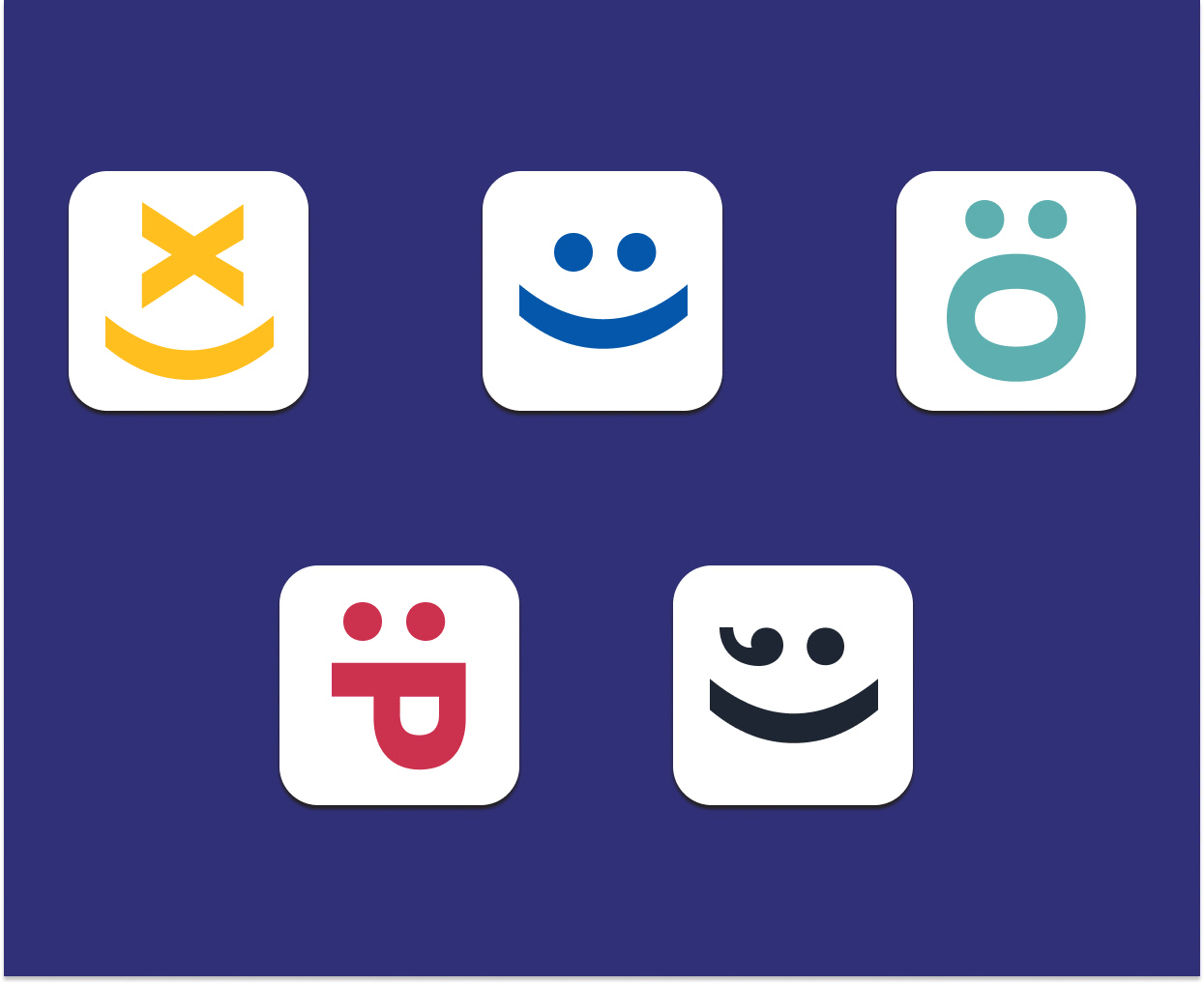 Main benefits:
Usually involving a fixed-price contract which helps you avoid unforeseen costs and spending over your budget
Freeing up time to focus on other in-house assignments.
Not worrying about project management, managing deadlines and task progress.
Not having issues with lacking development experience and expertise as an expert team does the job for you.
Disadvantages:
Fully giving up control, from planning to release.
Issues with the development and the final product in case of having unclear requirements.
Having less or no freedom to adjust requirements during the development process.
While giving up control can be a major disadvantage, it can be easily avoided by choosing a trusted outsourcing company, with years of experience and a solid background.
How to choose
This list of questions may help guide you in deciding which outsourcing model to choose for your company:
Do you already have a software development team within your company?
Are you missing certain skills or an entire team of developers?
Does your team have experience with similar projects?
Do you have a set list of project requirements or do you plan on changing them as the project progresses?
Do you have a clear vision of your final product?
Do you wish to give full control to another software development company or wish to stay involved and manage the project yourself?
When selecting a relationship-based outsourcing model, it's important to consider your current expertise, the number and type of additional experts required, and the specific needs of your project. Carefully evaluating the pros and cons of different models will aid in determining the best fit for your organization, but it is important to note that every project is different and there is no uniform answer to which model is ideal.
Conclusion
No matter which software development outsourcing model you ultimately decide on, the key to success is partnering with a reputable software development outsourcing company. Not only will this reduce many of the inherent risks associated with outsourcing, but it also ensures that you are working with a team of experts who can bring the necessary skills and experience to your project.
Mono specializes in providing software development outsourcing services that are tailored to meet the unique needs of our clients. With our support, you can focus on your core business while we fully handle all the development aspects of your project, or you can outsource a part of your work and have some of our experts augment your team by providing additional skills you are missing.
Whichever choice you make, you will gain top-quality service and collaboration, and all for an affordable price. So, how can we help you?